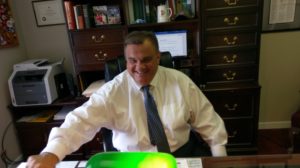 In some cases you may be accused of misconduct such as fraud or deception in a civil action by another person or the government, rather than in a criminal action.  Your assets, your home, your car and your family's security are at risk. We protect you and your property with the same energy and experience we would in a criminal case.
Experience and results that matter.
Nicholas G. Grapsas has represented individuals, corporations and businesses in civil lawsuits throughout his career as a trial lawyer. As a member of a well respected high profile law firm, Nick aggressively and successfully defended the rights and property interests of a myriad of clients, including law firms, government officials, local governments, lawyers, financial professionals, insurance companies, as well as other corporations and ordinary persons.
Whether you are an individual or a small business owner needing counsel to advise and protect you in a dispute with a government, a business or another person, let us help. We can assist you in most civil matters, including the following:
Civil Rights Claims
Police Misconduct
Fraud and Related Misconduct
Deceptive Practices
Restraining Orders
Civil Litigation (Lawsuits)