Nicholas G. Grapsas
Bar Admissions:
State of Illinois Supreme Court
United States Court of Appeals for the Seventh Circuit
United States District Court for the Northern District of Illinois, (Trial Bar Member)
United States District Court for the Northern District of Indiana
Nick Grapsas is a native Chicagoan who has practiced law in the federal and state courts systems in and around Chicago for over 31 years! Nick has served as a senior prosecutor with the Cook County State's Attorney's Office, a criminal defense lawyer, a civil litigator and a government official as Cook County Public Administrator. His experience is as vast as it is extensive. Nick is a veteran Chicago criminal trial lawyer very familiar with its court systems.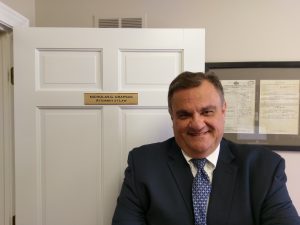 As a Cook County Assistant State's Attorney, Nick was responsible for the management and trials of hundreds of felony prosecutions concerning both violent and financial crimes. Nick personally tried hundreds of these cases, including to both jury verdicts and judge's findings.
As a partner in a prominent and well-respected downtown law firm, Nick focused in the areas of white-collar criminal defense, commercial litigation, government law/municipal representation and appellate practice. There, Nick served as an assistant to the Special Counsel to the Illinois Secretary of State in which capacity he was involved in the "License for Bribes" investigation which resulted in the federal prosecution and convictions of numerous former state employees, including the former Secretary of State and Governor. He also represented and advised local municipalities and government officials as Special Counsel and counseled municipalities on proper police practice and procedures. As a court-appointed Special State's Attorney, Nick successfully represented a government official who was repeatedly accused in a series of civil lawsuits of committing fraud and other malfeasance. In those cases, Nick prevailed in each level of the state court system.
Nick has also served as the Illinois Public Administrator for Cook County. In that office, Nick administered the estates of persons who died without leaving wills, or whose designated executors under their wills either could not act or committed misconduct. Nick accounted for and protected the assets of those estates from plunder, theft and other wrongdoing.
Nick's law practice is dedicated to helping people and businesses who are accused of crimes, fraud and other misconduct in both federal and state courts. He is a panel counsel with the Federal Defender Program of the United States District Court for the Northern District of Illinois in which capacity he represents criminal defendants by Court appointment. Nick graduated from Loyola University of Chicago College of Arts and Sciences and from Loyola University of Chicago School of Law.




Testimonials
Read Paul D.'s review of Nicholas G. Grapsas on Yelp
Read Lauri B.'s review of Nicholas G. Grapsas on Yelp
Read Carmen R.'s review of Nicholas G. Grapsas on Yelp
"I was wrongfully accused, and faced 2 charges. Nick was able to uncover the truth, and the judge found me not guilty on both counts. Nick gave me great, sound advice throughout the entire process. Nick was confident and prepared at every step, and he paid great attention to detail. I'm thankful that I chose to work with Nick, he was nothing but respectful and professional as he navigated through my situation. Because of professionals like Nick, I have a lot of faith in our justice system."
M.E. - Chicago, IL